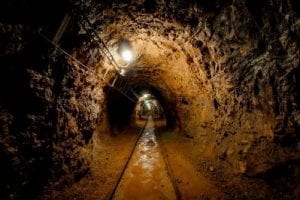 Tunnels are a vital part of any underground mine, as they:
Provide access to working faces
Facilitate the removal and transportation to the surface of ore and other materials
Link shafts, rooms, stopes, and other parts of the mine together
Provide a means of ventilation within the mine
Tunnelling is a Specialised Business
Tunnels, especially those running through underground mines, are often excavated through rock and soil deposits that can vary considerably over relatively short distances, both in terms of the type and hardness of material and in the way they react to being tunnelled through. Determining the correct tunnel design, tunnelling method, and best (and safest) support systems for each given situation is a highly specialised field.
The Role of Tunnelling Specialists in Underground Mine Development
On-site mine engineers usually have an intimate knowledge of the existing mine infrastructure and a broad knowledge of engineering principles as they apply to mining, making them ideal for monitoring (productivity and safety), and operational roles.
Many engineers in the full-time employment of underground mines also give input to or manage planning and expansion projects. However, despite the valuable contribution they make to the safe and efficient running of most underground mines, on-site mining engineers are invariably not tunnelling specialists.
Having one or more tunnelling specialists work with the existing on-site engineering team on development projects, especially those that require intricate design or that pass through adverse ground conditions, can help make the resulting development excavation safer, more efficient, and more cost-effective (especially in the longer-term).
At RockEng, we have a team of tunnelling specialists who are highly qualified and have the mining knowledge and experience to add tremendous value to any development project in your mine.