Ground monitoring is essential in any underground mine.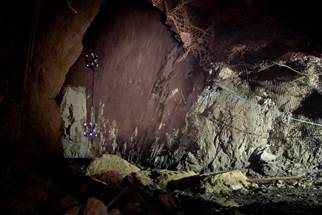 Ground Monitoring – The earth is far from static; on the contrary, there is continual movement all the way from the surface to deep underground. While this movement is generally very slow, incremental and completely natural, it also can pose significant risks for those in the mining sector – especially those who operate underground mines.
In order to ensure high productivity rates and safety, in some applications, it is vital that a comprehensive ground monitoring system is in place to alert them of sudden, significant movements of soil or rock in or around the project, especially if this leads to excessive deformation or damage to the back or walls of the excavation, or any other event within the project that indicates a potential risk.
Being alerted by the ground monitoring system to all potential events (even small ones) as they arise means that engineering or technical staff can assess potential risk and take immediate and appropriate action, ensuring that the mine or large excavation is kept safe and productive at all times.
With more than 30 years of combined experience by RockEng personnel in the application of specialized geomechanical instrumentation for the assessment of changing ground conditions in both active and non-active mining areas, we offer services relating to:
Instrumentation program design for ground support assessment and re-design with data interpretation and analysis
Monitoring of localized ground stability issues with data interpretation and analysis
Design of instrumentation systems for real-time mine-wide ground stability monitoring
Design of instrumentation programs for "in stope" hanging wall / foot wall closure monitoring with data interpretation and analysis