Proper ground support design is essential for the safety and productivity of underground mines and civil engineering projects.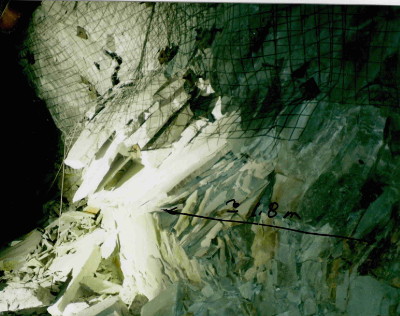 Ground Support Design – Ground support design is a key sub-discipline of underground rock engineering and forms part of the overall ground control measures that are a vital part of all underground mining and sub-surface civil engineering projects.
As a general rule, ground support design divides into two main areas:
Conventional rock support, where the main focus is controlling rock movements and falls that are caused primarily by gravity (usually this means dealing with the mechanics of shallow layers of loose rock).
Burst-resistant rock support, where the main focus is preventing or minimizing damage to excavations, by resisting dynamic loads and large rock dilation caused by in-situ stress conditions. This is generally more of a risk in underground mines and civil engineering projects where tunnelling occurs at great depths below the earth's surface.
Whether conventional rock support or measures to curb and control rock bursts are required, it is essential that ground support design is carried out by capable professionals.
Due to their nature and the environment in which they are constructed, tunnels, especially their backs, are often subjected to high levels of stress and pressure. Collapses or cave-ins can have catastrophic effects on the safety of personnel and equipment and cause major productivity disruptions, so it is vital that ground support design is taken very seriously.
The specialist engineers that work for our team at RockEng have the qualifications, knowledge, and experience to handle all relevant aspects of ground support design projects, using three-dimensional numerical modelling and other techniques as appropriate.
Making use of our expertise ensures that all ground support design and implementation activities will be performed to the highest standards and will make use of the latest technology, techniques, and best practice models – leading to a safer, more productive mine or civil engineering project.